California Trustee Responsibilities & Duties:
Who can be a trustee?
Listen to this Article on:
Who can be a trustee and what are their responsibilities and duties?
A California Trustee Responsibilities and Duties: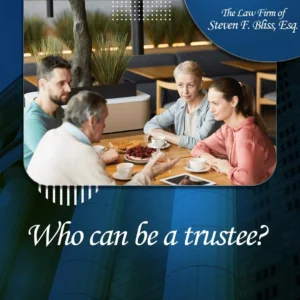 A trustee of a California trust has numerous responsibilities and duties. The primary task of the trustee is to manage the trust assets, but with this job comes many obligations. If you have been appointed as the trustee of a trust, it is wise to obtain legal help to fulfill all of your duties properly. The trust document and applicable laws determine the extent of a trustee's responsibilities and powers.
Failure to follow the trust terms or the law without a valid excuse may constitute a breach of the trust.
Duties of a Trustee in California
California law outlines the duties of a trustee. Here, our trust administration attorney in California demonstrated the responsibilities of trustees.
Following is a summary of each of the duties of a trustee in California.
Duty of Loyalty: A trustee must act in the best interests of the beneficiaries. This includes a requirement that the trustee never places their interests about those of the beneficiaries. The trustee is prohibited from using their power for an advantage to the detriment of the heirs.
Duty to Avoid Conflicts of Interest: A trustee's responsibility to avoid conflicts of interest helps ensure that the trustee does not breach the duty of loyalty. In other words, the trustee must avoid activity that involves self-dealing, personal conflicts with the interests of the trust, and conflicting fiduciary responsibilities.
Duty of Impartiality: The trustee cannot favor one beneficiary over the others. The trustee must also act impartially in investing and managing trust property while at the same time considering the differing interests of the beneficiaries.
Duty of Disclosure: A trustee must keep trust beneficiaries reasonably informed and disclose all material facts necessary to protect the beneficiary's interests in the trust.
Duty Not to Delegate: The trustee is prohibited from delegating trust tasks that the trustee is reasonably capable of performing. A trustee also cannot transfer their authority to others. It is important to note that this duty does not prohibit a trustee from employing an attorney when appropriate.
Duty to Keep Trust Assets Separate: A trustee cannot commingle trust assets with their assets. All property held by the trust should be identified and kept separate.
Duty to Enforce or Defend Claims: The trustee must enforce claims that a "prudent trustee" would take steps to implement in similar circumstances. In other words, a trustee is not required to enforce every claim, only those that are deemed cost-effective and likely to succeed. The trustee must also defend claims that may result in a loss to the trust. If you have been appointed to administer a trust, you are responsible for completing several tasks, and there is little room for error. Don't despair. We have helped hundreds of people in your situation.
Please Help Us Spread The Word By Giving Us a 5 Star Rating on This Article
Free Initial Consultation with
Steven F. Bliss Esq.

★ ★ ★ ★ ★

Examples of specific duties California statute imposes on trustees:
• A trustee must follow the terms of the trust instrument.
• A trustee must administer the trust "solely in the interest of the beneficiaries."
• If there are multiple beneficiaries, the trustee must deal with them impartially and keep in mind any unique needs or interests any one of them may have.
• A trustee may only use trust assets for trust purposes and never for the trustee's profit.
• A trustee may not engage in a transaction in which their interest is adverse to a trust beneficiary.
• A trustee may not condition a valid beneficiary trust payment on the beneficiary relieving the trustee of liability. `beneficiary of the first trust."
• A trustee must reasonably act to control and preserve trust assets.
• A trustee must "make the trust property productive."
• A trustee must not commingle trust property with outside assets and must clearly label trust property.
• A trustee has the duty to reasonably enforce claims of the trust and defend against legal actions that could harm the trust financially.
• A trustee should perform duties that they should reasonably be required to fulfill, except that it may be prudent to engage a specialist for "investment and management functions."
And others
Contact a California Trust Administration Attorney
If you have a problem with a trustee not fulfilling their duties, schedule a consultation session with us. We can minimize your stress, reduce exposure to personal liability and guide you through an orderly process. At Wildomar Probate Law., we are dedicated to your peace of mind.