Frequent Questions About The Probate Process
What Is Probate In California?
Listen to this Article on:
The Probate Process in California.
Probate is the legal process for reviewing the assets of a deceased person and determining inheritors. A probate proceeding is not always required upon death. Still, it is usually essential when a deceased person's remaining estate is highly valued. Probate proceedings are traditionally focused on the existence of a will.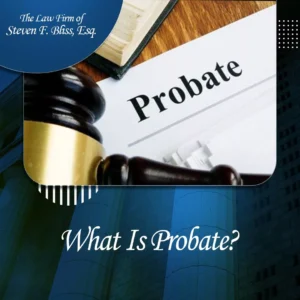 What is the average timeline of probate?
One year, however, could easily last longer with contests, procedural mistakes, or creditor issues.
How can I prevent the probate of my estate after my death?
Meet with an estate planning attorney to review your assets and determine if you require a trust.
I've been named executor of my loved one's will; what does that entail?
An executor is a fiduciary. You will have to follow the procedural rules of the probate court and safeguard property for heirs. You will also be in charge of notifying creditors and required government entities before distributing the assets to heirs.
Please Help Us Spread The Word By Giving Us a 5 Star Rating on This Article
Free Initial Consultation with
Steven F. Bliss Esq.

★ ★ ★ ★ ★

How will I know if my loved one's estate is subject to probate?
For decedents who died prior to January 1, 2020 the California Probate Code provides that probate estates of $150,000 or less do not need to be probated. As of January 1, 2020 the threshold amount is $166,250., that:
• Are not titled in the name of a trust.
• Do not have a joint tenant.
• Do not have a pay-on-death beneficiary.
Why do I need a probate attorney, and what do they do?
An experienced probate attorney will ensure no unnecessary delays in your case and represent you in court.
What is the cost of hiring Probate Attorney?
In California, probate attorney's fees are calculated based on the gross appraised value of the probate estate as follows:
4% of the first $100,000
3% of the next $100,000
2% of the next $800,000
1% of the next $9 million
Be sure to contact Steve Bliss, he has several programs and plans available to help you get your probate proceedings started with little to no out of pocket expenses.